The Eighth International Symposium on Control of Semiconductor Interfaces (ISCSI-VIII) will be held in Sendai, Japan, on Nov. 27-30, 2019. ISCSI is a series of highly successful meetings starting at Karuizawa, Japan, in 1993. The aim of this symposium is primarily to bring together leading-edge researchers and other interested parties in the field of science and engineering of semiconductor interfaces and related matters.
Joint sessions with the International Workshop on New Group IV Semiconductor Nanoelectronics will be arranged.  
The ISCSI-VIII has been hosted by the 154 Committee on Semiconductor
Interfaces and Their Application, The Japan Society for the Promotion of
Science (JSPS) in cooperation with the 131 Committee on Thin Films, JSPS and supported by Research Institute of Electrical Communication, Tohoku
University and The Japan Society of Applied Physics.
New!!
Submission Deadline for MSSP Special Issue has been extended to December 31, 2019.
"Click here for submission"
Registration Desk
Registration and information desk opens for attendees in the 4F Lobby of the Laboratory for Nanoelectronics and Spintronics.
Nov. 26th 15:00-18:00
Nov. 27th 8:15-18:00
Nov. 28th 8:30-18:00
Welcome Reception
Welcome Reception will take place on Tuesday, 26 November, from 18.00 to 20.00 at the "Restaurant Hagi". Registered participants are invited to the welcome reception. Please join the welcome reception after registration.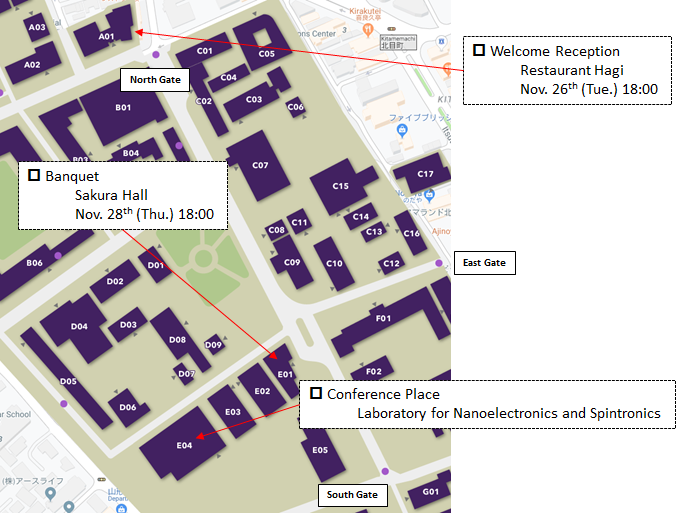 Important dates
Abstract Submission Deadline: July 16(Tue), 2019 extended to Aug. 15(Thu), 2019
Notification of acceptance: August 20(Tue), 2019
Early Registration Deadline: October 25(FRI), 2019
Poster presentations
The submission site is still open for poster presentations!
Deadline: Oct. 14 (Mon.), 2019
Proceedings
Proceedings will be published in a special issue of Elsevier Journal, Materials Science in Semiconductor Processing.
Previous Conferences